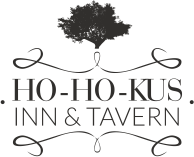 Tue-Sat 11:30 am - 10:00 pm
Sun, Mon 11:30 am - 9:00 pm
1 East Franklin Turnpike
Ho-Ho-Kus, NJ 07423
UNFORGETTABLE DINING EXPERIENCE
Birthdays, Anniversaries & Memorial Celebrations
Allow Ho-Ho-Kus Inn & Tavern to host your milestone celebration for a flawlessly executed, memorable event all of your guests will enjoy. Our dedicated staff has years of experience in planning and hosting gatherings of all nature and sizes, and our Executive Chef can craft a personalized menu to accommodate your unique vision. With two floors of private event spaces, a sprawling bluestone patio, and fully stocked bars, our inn is fully equipped to create memories your guests won't soon forget.
Birthdays & Anniversaries
For milestone birthdays and anniversaries, invite the guest(s) of honor to enjoy an evening of exceptional dining and service with their nearest and dearest. Our elegant Chateau Room is a preferred dining space for gatherings of up to 40 guests, while the tasteful Zabriskie and Hermitage Rooms suit more intimate gatherings.
For large-scale events, you can also "Own the Inn," granting up to 180 guests access to each of our private dining rooms, bars, and patio. Each space will have a personal dining station for the utmost level of comfort and convenience.
Memorial Events & Repasts
The Ho-Ho-Kus Inn & Tavern is honored to host your family's celebration of life, memorial gathering, or repast. Our private dining manager is available to support you through each step of the planning process to ensure your loved one's life is honored according to your precise wishes. With a broad range of seating, menu, and beverage service options to choose from, every unique repast and celebration of life gathering can be accommodated in our comforting and intimate private dining rooms. Our Chateau Room is also AV-equipped for memorial videos and slideshows.
To discuss your ideas for celebrating a special milestone or commemorating the life of a loved one, contact our event planning today by calling 201-445-4115 or via email: Privatedining@hohokusinn.com.
Testimonials
What our clients say
Amy Gabriel
I came for their Thanksgiving dinner event. The pros: food was fantastic! Great quality, came out at a decent pace, good service, great price (just $50/person)! For me and my…
Jeffrey Stjohn
Very disappointed. Ordered mussels (which was on the menu) and they were out of them. Service was poor. Finally received our meal which was just ok. Went to order dessert,…
Becky LG
Always a wonderful brunch service. Everything is absolutely delicious, staff is attentive and friendly, very clean facility.Our staff member was always asking could he get us anything, he was on…
Pratik Paddle
Wow, what can I say? The food here is amazing. The steak was cooked perfectly and the salmon burgers on a sticky rice bun is something to order as well
nathan chustz
This place was awesome. I had the duck in 2013 and couldn't remember the beer. However, the wait was not long and the staff was knowledgeable of the location. I…
We value Your Opinion!
Review Us!
---

Sign up
for the event
and Hot offers news